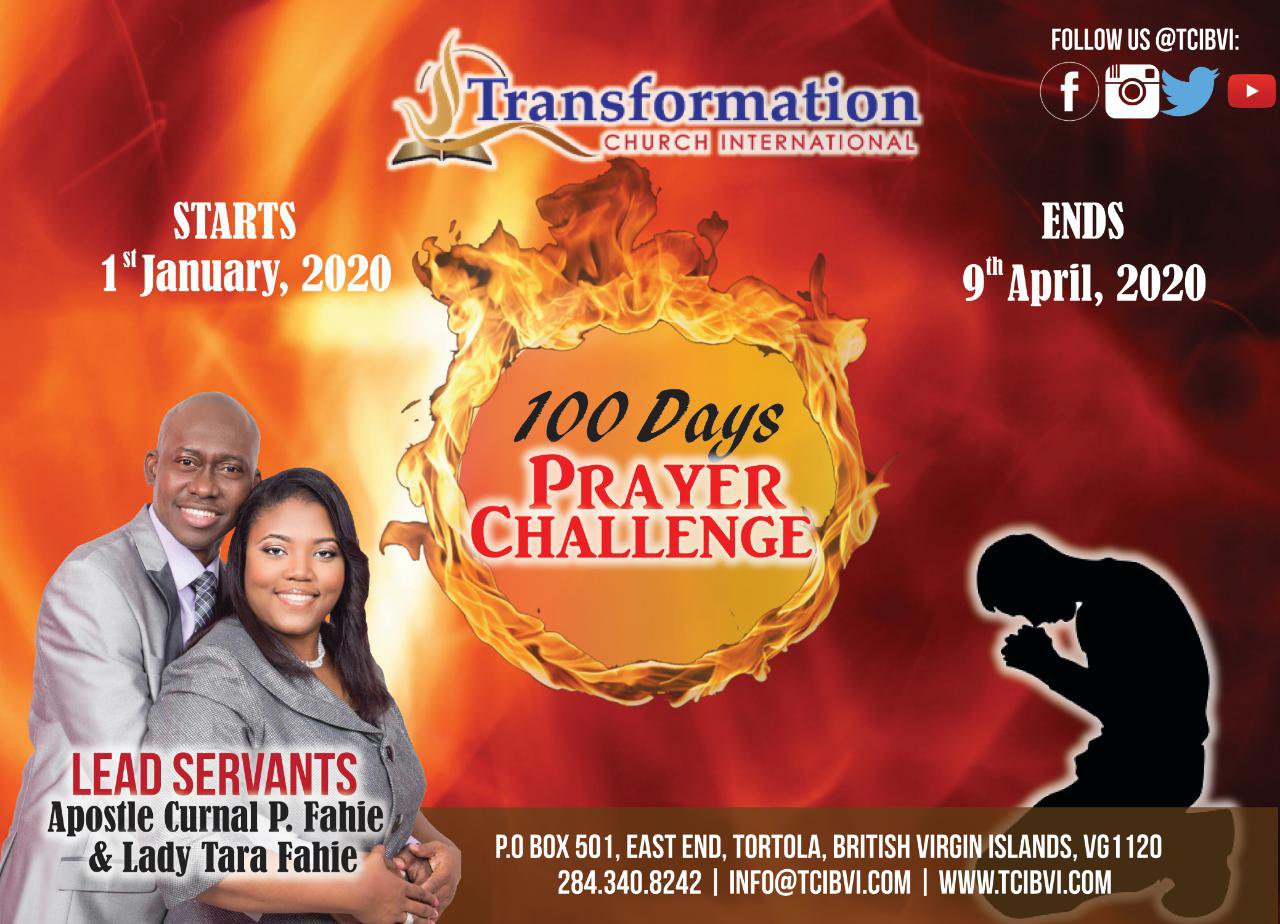 TCI's 2020 Vision - Above & Beyond
2020 is not only a phenomenal year but the beginning of a very pivotal decade in the history of mankind. Therefore, God has instructed me to release a challenge to the Body of Christ. Pray for only one hour a day for the first 100 days of the year/decade. In Matthew 26:40/Mark 14:37, Jesus asked his disciples if they couldn't watch and pray and for him for 100. It was a major rebuke because Jewish men are taught to pray in watches (intervals of 3 hours).
Everything rises and falls on prayer. We win or loose because of prayer or the lack thereof. Therefore, we have to set the tone of this year/decade by saturating, bathing, clothing, covering, drenching and immersing it with prayers.
Please join us on this assignment/quest to extrapolate, pull, drain and receive everything that belongs to us out of this era/time, if the aforementioned speaks/resonates with your spirit.
Now, God told me that this 2020 year/decade will be the greatest Transfer Of Wealth (T.O.W) the world has ever seen since the Exodus of the Children of Israel out of Egypt and the conquering of the land of Canaan (Ex 11:2; Ex 12:31-36/Deut 6:10-11). However, don't get it twisted that you are just going to name it and claim it! There are giants in the land that God has given you. Therefore, you are going to have to stand on the word of the Lord like Caleb and fight for your inheritance knowing that you already have the triumph by faith in Jesus name (Josh 14:10-15).
Please indicate by a show of hands who is man and woman enough to take on this challenge. Then Like and Share our page so that you can be kept abreast of regular updates.
BELOVED, LET'S GO GET OUR INHERITANCE IN JESUS NAME!
100 Days Prayer Challenge - 1 Hour (60 mins) Each Day
Tools - Bible, Praise & Worship Music, Notebook/Journal, Pen
Rules - Daily Spend 60 mins in prayer
1. Visit our BRAND NEW TCI APP for updates and prayer points
2. Check our Facebook page for updates, prayer points, quotes, daily devotionals etc
Purpose & Intended Results is GROWTH - God, Rewards, Our, Wrestling, Through, Holiness (GROWTH)
1. (G) Stronger & Closer Relationship With God (G)
2. (R) Stronger & Deeper Prayer Life/Life in Prayer
3. (O) Greater Reliance in God For Everything
4. (W) Salvation of household & Financial blessings/advancement
5. (T) Greater discernment and understanding of spiritual things
6. (H) Receive your true identity which enables and empowers you to walk in the righteousness of God
Prayer Time Structure in Minutes
Praise
1st 5 mins - Thanksgiving Praise - Words and Songs of Praise that talks about His Greatness and who is He
2nd 5 mins - Passionate Worship - Words and Songs of Adoration Directed to God, His Majesty
Purging
3rd 5 mins - Repentance and confession of sins known and unknown as well as sins of forefathers (Dan 9:3-19).
Passion
4th 5 mins - Scripture Reading - Feed your spirit man
Power
5th 5 mins - Declaration - Decree & Declaring that the will and purpose of God for your life will manifest and come to pass in your life
Petition
6th 5 mins - Marriage & Relationships (Release the Love of God that passeth all understanding, destroy the plot, plans and schemes of Satan and his marriage destroying agents in Jesus name). Decree and declare that your marriage shall stand in Jesus name
7th 5 mins -Children & Friends
To be the head and not the tail, excel in all areas, protection, provision, education, favour, strength, health, peace of mind, deliverance, godly friends, excellence, etc)
8th 5 mins - Salvation of the Soul of men. This is the heartbeat of God as He wishes that none would perish but come to repentance and develop relationship with Him through His Son Jesus Christ (Jn 3/16; Jn 14:6).
Provision
9th 5 mins - Financial Freedom through strategies witty ideas and inventions, debt cancellations, promotions, new business ventures, investments, job etc
Protection
10th 5 mins - Prayers Against Sickness/Disease, Witchcraft, spiritual embargoes,
Peace
11th 5-Be Quiet & Listen
Perception & Proclamation (Seeing Clearly)
12th 5 mins - Amen (So Be It).
End with Praise/Worship and thank Daddy God in advance that He's not only heard your prayers but has granted you all of the godly desires of your that are in accordance for His will for your life in Jesus' name.
In closing, please indicate by a show of hands who is man and woman enough to take on this challenge. Then Like and Share our page so that you can be kept abreast of regular updates.
Blessings
In Jesus' Name,
Apostle Curnal P. Fahie